My problem with Pinterest
Added: 2014-08-22 | Edited: 2014-09-05
---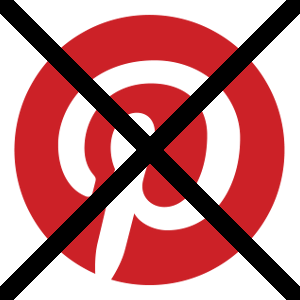 A few years ago I noticed I was getting traffic from a website called "pinterest.com". At first it wasn't much, but as the weeks go by the amount grew. Eventually I decided to check out that site. It seems to be some kind of bookmarking website where users make boards of images they find on the web and share it with other users. That's not so bad I guess. At least I get some traffic from them.
However there are a few things that bothers me. At that time (2010/2011) my blog was still written solely in Norwegian only. I started translating to English around July 2014. Practically everyone who pinned or repinned my images doesn't even speak Norwegian. So what interest do they have in my blog?
Another thing that bothered me is how little control I had over what's being pinned, who repins, number of repins and so on. I get no notification whenever someone pin something from my blog. I get no access to any kind of insight or statistics on what's happening with my content on Pinterest. The fact that everything happens behind my back is disgustingly disturbing.
What bothers me most is the way the users on Pinterest treat the content they're taking. They make nice boards based on other people's images, they share them as if it was their own. It also annoys me to hell and back that those people who pins and repins my images gets the credit for them. They get the hearts and the compliments like "wonderful dress!", "great tutorial" etc just because they "found" my picture on the web. Me as the creator however doesn't hear any of that. It wasn't until I start digging around on Pinterest that I found out about this.
So basically the Pinterest users would gladly compliment the person who pinned the image rather than going to the creators of the work and give them the thanks, even though the link to the origin is attached to every single pin and repins.
For me as a creator that's quite a big deal. I enjoy making stuff and I enjoy sharing them, and I rarely ask for anything in return. But I also like to be appreciated for what I'm doing.
When someone visit my blog they can easily leave a comment if they want to. When someone put my contents on Pinterest that moves all the action elsewhere.

You don't really appreciate someone or what they're doing if you can't be bothered to tell them about it.
You pretty much need to be an artist or a creator yourself in order to understand why that's a problem.
Let me try to explain it with this analogy:
You invite people over to your home and cook a nice meal for them. The food was great and everyone compliments you for it. You and your guests are having a good time.
Now think about this scenario;
You invite people over to your home and cook a nice meal for them. Then one of your guests decided they wanted the party elsewhere. And they're bringing your food with them. So you were sitting alone at home wondering whether people enjoy your cooking or not. Would that be OK with you?
That's more or less what Pinterest is doing to all the creators out there.
While Pinterest generates some traffic to my blog it sends me a group of visitors I'm not too fond of. The vast majority of the visitors I get from Pinterest doesn't stay on my blog. They went only to the one page linked from the pin and then they leave. Which means they clicked on the source of the pin either out of curiosity or were simply mindlessly clicking just because the link is there.
Yes I get traffic from Pinterest, but it's "worthless" traffic which only waste my bandwidth.
---
What can you do?
Thankfully over the years Pinterest has giving us some ways to control the pinning. Probably because of all the complaints they're getting. The most useful one is a meta-tag site owners can put into their HTML pages to prevent users from pinning contents on Pinterest.

<META name="pinterest" content="nopin">

By adding the above tag in the <HEAD> section of the pages I effectively stop new pins from my blog. However that doesn't do anything to the images already pinned. In order to get those pins removed I had to fill out a form on their website:
http://www.pinterest.com/about/copyright/dmca/
To be safe I also provided exactly the same information given in the WHOIS database for my domain, in case Pinterest want to make a fuzz over mismatched informations with the domain records.
A few hours later I got a reply from them saying they've removed the requested pin, the repins, the parent pins and their repins. Oh, not bad!
I had to check it for myself. Tried a few pins listed as referer in my log files and yes, they're all gone. Great!
Unfortunately it's not quite the end of the story for me yet. The most pinned and repinned image from my site is part of a tutorial I wrote about mitered corner (in Norwegian): Opplegging av hjørner,
namely this image: /opplegging/opplegging-hjorner.jpg
Just within minutes after I got the email from Pinterest a bunch of users were downloading that particular image like crazy. After investigating my log-files it seems like many of the users were fetching that image through their email clients... Which means:
Whenever Pinterest remove pins they email every user who have that pin, informing them about the removal. Apparently they also include the link to the original image, encouraging people to download the image they just removed. And that's exactly what people are doing!
Seriously? What the hell?
A few moments ago I almost gained a little respect for Pinterest for honoring my request. But this? This is just a childish way of Pinterest to "punish" the creators by using their users against us.
In any case this is my website and it's not like I can't do anything about it.
To stop people from mass-downloading the image I simply renamed it and updated my page. Then I got another problem; my error-log got filled up with missing files. Since I like to have my error-log for actual errors I put up a dummy image in place of the old one.
Problem solved!
PS: Just for the record; barely 3% of the said users actually visited my blog after they got notified that the pin has been removed. During that day I had 13500 unique requests more than usual, but the number of actual visits only increased by 400.
Edit:
According to the comments below it seems like Pinterest is providing a link to the image in question so people can see what has been removed. So most people were probably just viewing the image and not saving it. For a site owner it still freaks me out when I suddenly get
literally hundreds
of requests for the same image from the webserver.
Which again leads me to two questions:
1) They had copies of my images in full size on their servers for years, but when they removed them they couldn't provide small thumbnails to show the users what has been removed? Instead they sent a link to the source, my website, so I have to waste my bandwidth and my server resources in order for Pinterest to inform their users? Pinterest obviously can't do anything without leeching from someone else.
2) Why can't they just quietly remove the pins without emailing hundreds of people about it? They never informed me when they took contents from my site. Why is there a need to inform the users when they remove it?
---